Strong friendships made through shared experiences
Our house is a place we all know, love, and respect. The history, quality, and originality of this structure go beyond just wood and nails, but represent the relationships that are built within its walls and the memories we have of our days at Cornell. Lots of parties, lots of good meals, but most of all, lots of lasting friendships.
It was during the many discussions during dinner, at night sitting on the floor or in the library that we learned how varied people are; how different backgrounds and ideas make for a much richer life for all of us. In the next few pages, we will try to give you some insights into what Greystone means to the brothers of Sigma Chi at Cornell.
Our brothers actively participate in various varsity, club, intramural and recreational sports on campus and throughout Ithaca during the academic year. For many years, club sports have given brothers an opportunity to interact with Cornellians from outside of the house. Off the field, sports are often a point of conversation and unity for the brothers.
Life at Greystone is not all about schoolwork and relaxation; many Sigs take time out of their busy weeks to give back to the community and help improve the image of both Cornell and Sigma Chi, not only in Ithaca but on campus as well. The spring semester is when Sigma Chi really gets its time to shine philanthropically—when we hold our annual Derby Days, to raise money for charities such as Children's Miracle Network and First Book.
Learn more about our active brothers and some of our more significant alumni.
This is Greystone, our home
Sigma Chi bought Greystone, our current home, in 1924. It gained a major addition in 1959 and was later renovated during the 2003-2004 school year that brought it up to the standards required for the 21st century. Previously it was the home of Irene Castle and Captain Robert E. Terman of Ithaca. It was a wedding present to the couple when they married on May 3, 1919.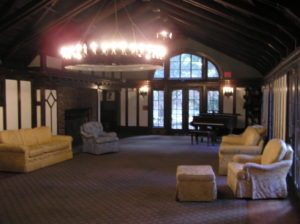 The great hall that makes up the southern wing of Greystone is a long and stately room with high ceilings suitable for ballroom dancing. The beautiful rafters in the Great Hall are made of Ethiopian cherry wood, a rare wood imported by the builders.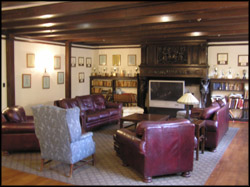 The library on the right of the main foyer maintains its old charm with its wood-paneled walls and bookcases. Behind this is the large dining room and kitchen where the brothers eat their daily meals and entertain their friends. The living areas upstairs were completely rebuilt to provide the comfort, safety, and convenience we all expect. Needless to say the house has wireless internet access throughout, plus cable TV connections in the rooms. A fire sprinkler system was installed as part of major renovation, and the public areas were upgraded.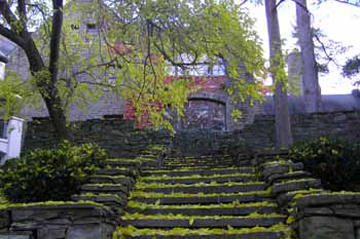 The grounds are spotted with patios that look out over one of the earliest swimming pools in Ithaca. We host pool parties and barbecues in the late spring and early fall, which serve as cornerstones of our social schedule each semester.
We eat well to stay healthy and entertain in style. Greystone comes complete with a recently renovated kitchen designed to feed all the brothers and their friends each night, mornings and on weekends. The kitchen has all the amenities of a new kitchen, complete with two freezers, three refrigerators, a deep fryer, new appliances, and a soda machine. But perhaps most impressive is our 15-year chef, Thomas Wilkinson.
Tom started his tenure in 2001 and started the now-famous kitchen menu. For breakfast and lunch, Tom makes the food that each brother wants to eat so that nothing goes to waste. An unprecedented hit, the kitchen menu then is a medium for immortalization in Sigma Chi. Tom explains, "I came up with the idea of naming sandwiches after brothers, so that when they come back years from now they can still see their names up on the board, which is a really big thing now." The menu features items like "Wong's Buffalo Wing Sub" after Steven Wong '05, "the Cajun Sesser" after Ben Sesser '06, "the T-Sperlz" after Ted Sperling '04, "Schnuck's Cheesy Burger" after Tommy Schnuck '06, and "Primetime Reinstein Bros Salad" after current Brother Steven Reinstein '10 and his brother, "Primetime" Jeff Reinstein '07, who was one of Tom's first stewards at Greystone.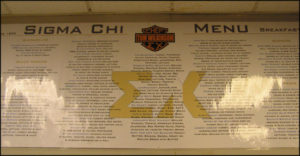 As the oldest person in the house, Tom has also assumes the unofficial role of historian of Sigma Chi, much like other chefs before him. Brothers are constantly found circled around Tom in the kitchen as he recounts many stories about Greystone, the brotherhood, and his ever-increasing number of experiences with brothers. David Colucci '08 emphasizes, "I mean, we live in the past to some extent here, and Tom is an increasingly more important wealth of fraternity history, lore, and advice on the daily underpinnings of the house."
The kitchen provides us opportunity for nourishment at any time of the day. However, it also serves as a space to meet, talk, and find out how everyone's day is going. It's truly one of the greatest benefits of Greystone.