The history of Greystone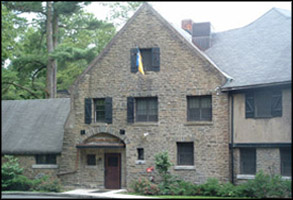 Our house's name, Greystone, is derived from the fact that its outside walls are constructed of grey stones from the area. But even more important, "Greystone" represents the memories we have of our days at Cornell. Lots of parties, lots of good meals, but most of all, lots of lasting friendships.It was during the many discussions during dinner, at night sitting on the floor or in the library that we learned how varied people are; how different backgrounds and ideas make for a much richer life for all of us. In the next few pages, we will try to give you some insights into what Greystone means to the brothers of Sigma Chi at Cornell.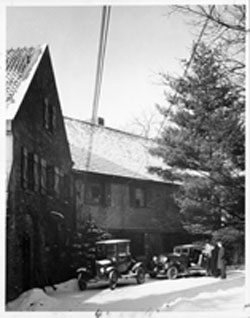 Greystone was built for Daisy Sandidge in 1913 by contractor Wm. L. Jenks of Ithaca at a cost of $15,000 (approximately $350,000 today). It was designed by John V. Van Pelt of New York City and constructed of local stone. In 1918, the exterior of the house was featured in a Wharton, Inc., film, A Romance of the Air, as the set of a military field headquarters in WWI France (see accompanying still photo from the movie and note that the library was not yet built).
Irene Castle was the second owner. She was given Greystone as a wedding present by Robert H. Treman (Cornell class of 1878) who was the father of the groom, Robert E. Treman (Cornell class of 1909). At the time of Irene and Robert's marriage on May 3, 1919, Irene had been a widow for about a year, losing her first husband and dance partner, Vernon, in a Royal Flying Corps training flight. At the time of Vernon's death, the Castles were a dance sensation in Europe and America, and Irene had become a leading silent-film actress and fashion trendsetter. Robert was the scion of a prominent Ithacan family, an avid out doorsman, and served in WWI as a captain in command of a black soldiers' battalion deployed in France. After the war, he returned to Ithaca and immersed himself in the family business, the community, and Cornell alumni affairs. Robert cut a dashing figure around Ithaca; Irene described him as "handsome with a fine physique and a self confidence that comes from knowing it."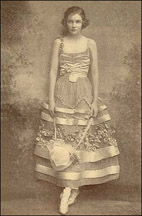 Although there are various stories about how Irene and Robert met, the New York Times, in reporting on their wedding, stated the "Bridegroom, the son of Ithaca merchant, has known his wife since their childhood." Robert's father attended Cornell around the same time as Irene's father, Hubert T. Foote (Cornell 1879). Both gentlemen were of similar social standing, and it is certainly possible that they stayed in touch after their Cornell years, enjoying the company of one another and their families. Although Robert was five years Irene's senior, one can imagine the two of them playing together as children, and upon Vernon's death, Robert being a convenient and comforting presence.
After honeymooning in Lake Placid, Robert brought his bride back to Ithaca to what the New York Times called "a splendid house and grounds situated on Cayuga Heights Road." Irene described her new home as a "simple enough house at Cayuga Heights, but it has one tremendously large room. It was a lecture room for the former owner and was 60-feet-long. We use it for a living room, but it serves for dances we want to give or for any sort of assemblage we want to arrange … " According to Irene's autobiography, she "landscaped the grounds and had a swimming pool installed with terraces leading down to it." This pool is still in use; it has no filtration as legend is Irene had salt water barreled in from the coast, feeling that "salt water was cooler than fresh."
Irene became a fixture at local horse shows, exhibiting her horsemanship and high-fashion sense. She was photographed often around Greystone with pictures appearing in Vanity Fair, Vogue, and Town and Country. It may have been during this Ithaca idyll that the relationship between Irene and Ithaca began to sour. Irene was cosmopolitan, avant-garde, and every bit a diva, and Ithaca was, well, upstate. Irene dressed in a fashion of which the local ladies did not approve and affected a lifestyle that was unusual by Ithacan standards. Legend is that she kept birds (Japanese robins) and monkeys in Greystone, had a cellar of liquor delivered to the house that fueled some of the liveliest parties ever seen in Ithaca (which was a dry town), and posed for the sculpture of a naked woman that marked Vernon Castle's grave.
In 1922, Irene went back on the road with her new dance revue, Dances and Fashions, and spent less time in Ithaca. In her autobiography she states, "The longer we [Irene and her dance partner, Billy Reardon] were on the road, the more Ithaca receded into the past and became an unpleasant dream to me. Occasionally, Robert came out to a little town to catch our performance and spend the night, but they were embarrassing and unsuccessful reunions. I still loved Robert, and I suppose I still intended to go back, but as we continued to sweep around the country, that day was pushed farther and farther over the horizon."
In July 1923, Irene filed for divorce. According to a New York Times report, "it was a case of incompatibility of temperament." The Penn Yan Democrat reinforced this notion, albeit in a somewhat catty way: "It [the divorce] must be a great joy to the Treman family. Her [Irene's] place seems to be in the limelight of the stage rather than the home fireside."
Irene Castle McLaughlin (she married Frederic McLaughlin, owner of the Chicago Blackhawks hockey franchise, on November 30, 1923) sold Greystone to the Sigma Chi Alumni Association on June 19, 1925, severing her final tie with Ithaca. She died in 1969, and her gravestone in Woodlawn Cemetery in New York City reads, "Irene Castle McLaughlin Enzinger"—no mention of Treman … Over the past 88 years, Greystone has been the chapter house of the Alpha Phi Chapter of Sigma Chi Fraternity. Nearly 2,000 young men (and a long line of St. Bernard dogs) have made this wonderful and storied house their home during their time on the hill.